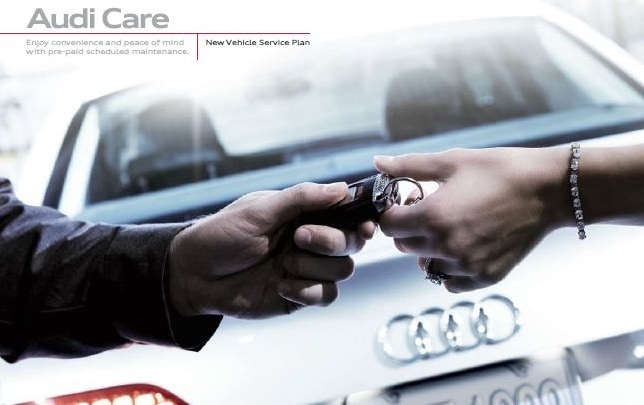 Audi Care: Premier maintenance for your Audi at an exceptional value.


When you purchase Audi Care, you pre-pay for scheduled maintenance service at a significant value. Over the life of the plan, Audi Care can save an average of 20% versus purchasing these service separately. And the cost of the plan is fixed.
Even if labor rates go up, Audi Care assures your pre-paid cost. You also have the convenience of one stop for all your maintenance needs, and the confidence that no one is better equipped to help you maintain your Audi.
The Audi Care New Vehicle Plan
The Audi Care New Vehicle Plan is available for purchased or leased 2007 model year or newer Audi vehicles and 2007 model year or newer Certified Pre-Owned Audi vehicles that have been purchased or leased at an authorized Audi Dealer in the U.S. Audi Care covers manufacturer-required regularly scheduled maintenance services at the following service intervals:
15k, 25k, 35k, 45k Miles
The true value of Audi Care: service as sophisticated as your Audi.
Audi Care is much more than savings and convenience. It delivers the extensive technical training, most up-to-date diagnostic tools and the use of Audi Genuine Parts to help maintain the original performance and integrity of your vehicle. This premium service helps ensure you receive the most from your Audi ownership experience. When you bring your vehicle in for Audi Care, you'll know exactly what to expect. Expect excellence.
Purchase Audi Care along with your new vehicle, and roll the cost into your monthly payment.

Purchase Audi Care at the same time you purchase or lease your new Audi, and the cost can be rolled into your payment. There's no check to write, and you'll instantly enjoy the convenience and peace of mind of Audi Care.
Comprehensive maintenance.

Over the life of your Audi Care plan, these services and more are covered under recommended scheduled maintenance.1
Engine Oil/Oil Filter Change oil and replace filter
Wiper Blades Check condition and replace if necessary2
Windshield and Headlight Wiper/Washers Inspect and check function
Tires and Spare Inspect for wear/damage, adjust pressure if required
AdBlue Fluid Refill completely (23 liters), Audi Q7 3.0L TDI only
Service Reminder Display Reset
Brake System Inspect system, check pad wear, check fluid level
Cooling System Inspect system, check fluid level, add if necessary
Exhaust System Inspect system
Engine Compartment Inspect for leaks
Battery Test and replace if necessary2
Dust and Pollen Filter Replace
Automatic Transmission and Final Drive Check for leaks
Manual Transmission and Final Drive Check for leaks
Front Axle Test for excessive play, inspect all dust seals
Drive Shaft Boots Inspect
Spark Plugs Replace at 35,000 miles or three years,3 then every 40,000 miles or three years3depending on model
Continuously Variable Transmission (multitronic) Change ATF
Power Steering Fluid Check, add if necessary
Air Cleaner Clean housing, replace filter element
Belts and Tensioners Inspect condition and replace if necessary2
Underbody Inspect for damage and leaks
Road Test Check all systems for correct on-road operation
Lights Check all exterior and interior lights for proper operation
Brake Fluid Replace every two years regardless of mileage
Cloth Top Check function and rollover protection every two years regardless of mileage (Audi A4/S4/A5/S5 Cabriolet only)
1Actual scheduled maintenance checks vary based on vehicle model, model year and mileage. See vehicle Owner's Manual for details.
2Replacement parts and labor additional. See dealer for details.
3
Whichever occurs first.
Make an Inquiry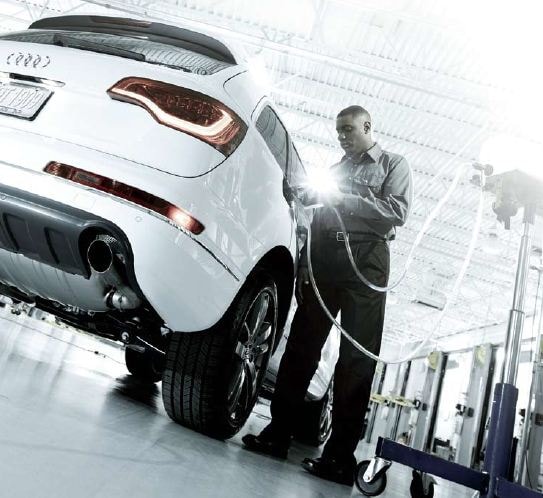 Audi Care program details
Audi Care is only valid in the country in which it is purchased.
Audi Care may not be canceled and is non-refundable.1 No refunds will be given if your lease is terminated early, or if your lease term is less than the coverage period.
Audi Care coverage may not be transferred to another new or pre-owned vehicle. Coverage stays with the vehicle for the life of the plan.
Audi Care can also be purchased at the full MSRP any time after the initial sale of the vehicle. A later purchase will not, however, allow you to roll the cost into your monthly payment. Service intervals that have already been performed will not be prorated. To receive the full cost-savings benefits of Audi Care, it is highly recommended that you purchase the plan at the time you purchase your vehicle or before the 15K service interval.
© 2010 Audi of America, Inc. "Audi," "Truth in Engineering," the four rings emblem, the Audi grille design and all model names are registered trademarks of AUDI AG. Printed in U.S.A.
1 Applicable in all states except California. In California, see your authorized Audi Dealer for details.